Verico The Mortgage Station - Incompetence or Negligence?
No moral person will idly stand by and watch a child or animal be hurt, nor a senior swindled.
This documentary is being produced to protect often vulnerable seniors from being defrauded.
We retain professional services because we expect the expert will have the knowledge and display a level of competence sufficient to undertake a difficult task. That is not what I experienced recently when dealing with the brokers at Verico The Mortgage Station. I experienced a nightmare series of unexplained mistakes that lead me to conclude that this business is run by the incompetent and the negligent.

For those not familiar with this story, a synopsis is as follows:

I am a journalist with 20+ years of experience in media, both in Canada and abroad. I am also the CEO of the Ontario Community Awareness Network, a benevolent not-for-profit that operates a community media channel called Five Points Media. Our purpose is to serve charities and compassionate community groups through donated services.

I made the mistake of engaging the services of Verico The Mortgage Station in Lefroy to finance renovations of our new community studio. The broker, Lisa Purchase, took three times as long as was promised to close the mortgage, and she also disregarded, often with short notice, multiple dates by which she promised to have everything done. On at least one occasion, Lisa Purchase used a delay to steer me toward a private mortgage at roughly twice the interest rate of the initial offer, which I declined. The brokers were also, in my opinion, cavalier about how their apparent negligence or incompetence was costing our benevolent community service tens of thousands of dollars.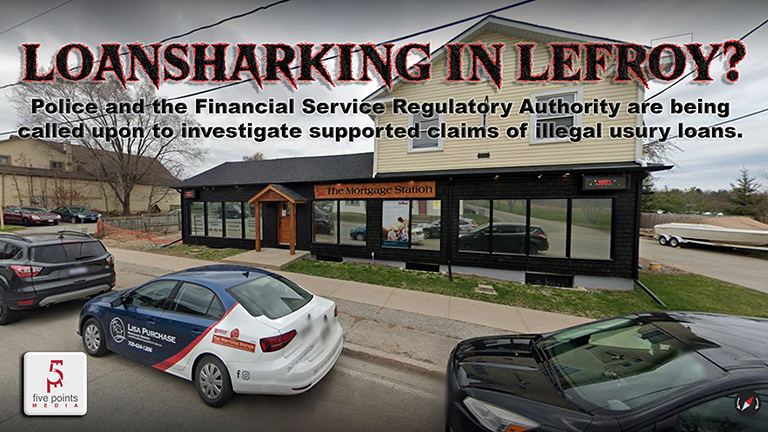 Worst yet, I discovered that the broker I thought I could trust had arranged for a personal loan through another broker at usury levels of interest, also known as loansharking. The rate of interest was set at an illegal 10% per month or 120% per year, twice the legal limit. This crime can be an indictable offence and can carry a punishment of imprisonment for a term not exceeding five years.
---
All of this and more is what I experienced after making the very expensive and harmful mistake of entrusting the brokers and management at Verico The Mortgage Station, located at 1370 Killarney Beach Rd. in Lefroy.
---
This ongoing story is presented in segments to enhance your access to the details:
---
Incompetence or Negligence?
It was on March 15, 2022, that I reached out to Lisa Purchase, Mortgage Broker, License # M17002834 at Verico The Mortgage Station, seeking her professional services in remortgaging my home and studio. I had worked with Lisa Purchase a year or so earlier when my team produced a series of promotional and information videos for her business through an out of province independent producer. The professional broker had also arranged a short-term mortgage for my former partner when we renovated, and she sold her parents' house in Oshawa.
My intent was to refinance our Big Blue Box Studios so we could finish the renovations that had run over budget due to pandemic-related price increases. Based on the value of the building and the equity available, I was told the transaction should be quick and easy. Initially, Lisa Purchase told me that the mortgage should take two to three weeks to complete, and she offered various options. I told her that I had hoped that it would be complete by the end of the month so I could buy out my old mortgage without extra cost and also finish the renovations. Lisa Purchase told me that was possible, but could not be guaranteed.
Lisa Purchase then offered to help me cover the increased costs through a private loan she could arrange with another broker, Renee Dadswell, Mortgage Broker, License M17002299, who also worked at Verico The Mortgage Station. Due to the transition, and with the pandemic still locking down much of our business, I agreed. What I did not understand until the loan was made available is that the interest rate would be 10% per month or 120% per year. I later learned that this rate of interest is not only ethically repugnant, but is grounds for charges under the indictable offence of usury, also known as loansharking.
I did not complain when three weeks came and went due to scheduling conflicts with the building inspector. However, that became the first of many delays and setbacks that Lisa Purchase said she simply could not explain. Then I was advised that I could not borrow elsewhere because doing so would hinder the process of closing the mortgage. This left me with minimal resources and totally at the mercy of the mortgage brokers at Verico The Mortgage Station.
Weeks came and went as these provincially licensed professionals repeatedly delayed and pushed back the closing date of the mortgage even though they knew a fast close was urgently needed. Finally, the date of April 29, 2022, was set as the closing date and based on that promise I moved forward to tear out the existing kitchen to build the new studio, and also the staff bathroom that was scheduled to be part of the renovations. For several weeks, I had been without income due to the "in limbo" state of my studio, which was caused by the repeated delays at the brokerage. As I was restricted from buying new materials, I thought I could at least demolish the old structures for disposal. I advised Lisa Purchase of my plan to proceed in this manner, and she confirmed that on April 29, 2022, the mortgage would close and I would receive the financing needed to buy new materials for the renovations.
On April 29, 2022, Lisa Purchase sent me an email advising that the mortgage would not go through as had been promised and that if I wanted to move forward more quickly, my best option was to accept the offer of a private lender who was charging as much as 13% interest. That was nearly double the rate being offered by the original lender. Based on my experience in journalism and investigations, I surmised that the new offer sounded like a bait and switch through which the brokers could profit either legally or otherwise. It was then that I realized I had made a huge error in trusting Lisa Purchase or Verico The Mortgage Station.
I declined the new offer, and from that point, Lisa Purchase and management at Verico The Mortgage Station dragged out the mortgage to a date almost three weeks past that of April 29, 2022, finally depositing the long-overdue financing on May 17, 2022. Throughout that three-week period, I had no kitchen, and due to the delays in attaining the mortgage, I was not permitted to borrow elsewhere. I was also heavily restricted in my ability to earn a living as the new studios were only half complete and could not be used. By the time the financing became available, the team at Verico The Mortgage Station had delayed the closing date six weeks longer than the three weeks that was originally promised. On April 29, 2022, the day the mortgage was promised to close but then didn't, I wrote to Lisa Purchase as follows:
"Well, this is frankly unbelievable. If I ran my business like this, I would have been out of business years ago. Now, apparently due to the oh so many delays, the interest rate is about a point higher. I can only guess how much that will cost me . . . Now, also, you need ANOTHER week to make this happen. It was supposed to be two to three weeks, which became a month, which became six weeks, that is now seven weeks. The loan of $2000.00 that was made based on a 10% monthly interest rate, 120% per year, is now suddenly going to cost me $2500.00? On Monday, another payment is due on my existing mortgage, which I do not have as I have sunk everything available to me into the renovations that started six weeks ago. On that note, I no longer have a kitchen or a front bathroom because I took your final day of April 29th seriously. Apparently, I was the only one. . . You don't seem to understand that I am now completely devoid of funds and am still needing to move forward on the renovations per a pre-existing schedule due to contractually binding obligations regarding the use of the studios. If these delays continue I am going to be sued. I have tapped every resource I have and by next Friday I will not have enough money to feed my dogs. I do note also that the date of next Friday is approximate. So that likely means another week."
In response, Lisa Purchase agreed with my frustration, but offered only platitudes and excuses.
"I agree with everything you have said. This is unacceptable and if there was any way I could have sped things up, I would have."
This pattern of avoidance seems to permeate the offices of Verico The Mortgage Station as David Flude, the Principal Broker, is apparently filtering my emails so he can stonewall any efforts to reconcile the damages caused by the apparent incompetence or negligence of his brokers. This, in my opinion, is not representative of any true professional who has been made aware that their business and employees have harmed a client through their actions or lack thereof. My most recent two emails to David Flude have so far received no reply.
---
Countup
---
Only The Guilty Hide:
This clock shows how long it has been since this article was first published late in the morning on June 18, 2022. Since that date, our claims and allegations have been read by thousands of people as our various social media accounts and the shares and comments of others have directed readers to our website. Regardless, the management and brokers of Verico The Mortgage Station have done NOTHING to silence our story or refute or allegations.
---
While the guilty hide in shadow, people of good conscience will raise the light to reveal the truth.
My name is printed clearly on the bottom of every page of this article.
---
Verico The Mortgage Station asserts sales of $5 million a year, so if what we are reporting here is not 100% accurate and fully backed with evidence, they would have retained legal counsel to seek an injunction, or to threaten to sue us for defamation, or to take some form of quasi-legal action to protect the reputation of their business. However, they have not done so, and have in fact done nothing to even try to legitimize their actions that were in truth criminal. Now the South Simcoe Police are reviewing the hundreds of pages of emails and other documents that show the truth about how the brokers of Verico The Mortgage Station committed the crime of usury, or loansharking, by charging a level of interest at an annual rate of 120%, which is twice the legally permitted limit.
Apparently, the brokers and management of Verico The Mortgage Station believe they can simply ignore the crime they committed and the apparent negligence or incompetence that caused a benevolent not-for-profit to lose thousands of dollars. However, if that is true, they have not considered search engines and the interest that is already being shown in this article by some of Canada's larger mainstream media outlets. Today, most news stories are being broken by small independent media sources.
---
Other Facts:
This article is a personal story about what happened to me when I made the mistake of refinancing the studio and production facilities of our benevolent not-for-profit community channel through Verico The Mortgage Station. I cannot claim to be neutral in my reporting, but all claims made in this article are backed by multiple pieces of emperical evidence. I am relying on the emails and other evidence to support my claims.
David Flude, the Principal Broker at Verico The Mortgage Station, was asked by me to contribute to this article before we released it. He chose instead to hide from his apparent negligence and the crimes of his brokers. On Friday, June 26, 2022, I sent a message to Mr. W. Mark Squire, Chief Operating Officer and President at Verico Financial Group Inc. via LinkedIn and the website at www.verico.ca. Again, we have received no reply. There is no logical reason that these professionals would evade our allegations unless they know them to be true.
---
Investigative Journalism by John Ironside, Producer/Publisher, Five Points Media
A division of the Ontario Community Awareness Network, a provincially registered not-for-profit community media service
Learn about us at Testimonials, Media Reports, and Recent Stories
---